Capsule Endoscopy
What is Capsule Endoscopy?
Capsule endoscopy involves swallowing a capsule which contains a tiny wireless carmera, which passes naturally through the small intestine. The capsule takes 2 pictures per second and transmits them to a Data Recorder worn on a belt for the duration of the test - approximately 6-8 hours. The pictures are later reviewed on a computer.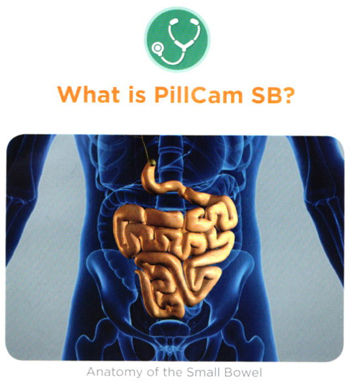 The day before the Capsule Endoscopy examination
On the day before the Capsule Endoscopy, you may have breakfast and a light lunch. (eg boiled or poached eggs, steamed fish or chicken, white bread, low fat plain yoghurt) After 1pm that day you must ONLY drink clear fluids. Drink plenty of clear fluids, at least 12-15 glasses or more. The reason for all the fluids is to keep you hydrated and to "flush" the small bowel out. Clearer pictures of the end of the small bowel are obtained if you drink plenty of fluids.
You must take one sachet of PicoPrep bowel preparation dissolved in a glass of water at 7pm the day BEFORE the capsule. SEEDED BREADS SHOULD BE AVOIDED FOR A FEW DAYS BEFORE THE PROCEDURE.
CLEAR FLUIDS:
Water, clear salty fluids (eg. strained chicken noodle soup, clear broth or bouillon, Bonox, miso soup). Clear fruit juices (apple or pear) or clear cordial (lemon or lime only) Black/Green/Herbal tea or Black coffee (skinny milk allowed but not whitener), artificial sweeteners are permitted. Clear jelly, carbonated soft drinks, sports drinks, Gastrolyte or Lucozade - no red or purple colours. A hearty combination of these clear liquids, (including 3-4 cups of clear soups) will give a variation in fluid intake. Sugar or honey is allowed. You may suck barley sugar or its equivalent.
The day of the Capsule Endoscopy
Do not eat or drink, except for necessary medication with a sip of water. Do not take medication within two hours of Capsule Endoscopy examination. Wear loose fitting, two piece clothing (shirt and pants/skirt).
Swallowing the capsule
The SensorArray belt will be applied to your stomach, over your shirt and will be connected to the Data Recorder which you will wear on a belt around your waist. After that you will swallow the capsule with some water. You can leave straight after swallowing the capsule and will be asked to return about 6-8 hours later to have the equipment removed.
After swallowing the capsule
Check the blue light on the top of the Data Recorder at least every 15-30 minutes - if the light stops flashing, note the time and call our rooms on (03) 9885 8100.
You must wait 2 hours before you can drink clear liquids (as listed above on this page) and 4 hours until you can eat a light meal (as as listed above on this sheet) and take your medication, unless otherwise advised. Once the equipment is removed you can eat normally.
Do Not Exercise. Avoid heavy lifting. You may walk, sit or drive. You may return to work, if you can avoid unsuitable environments and physical activities. Try not to touch the Data Recorder or the SensorArray leads and avoid getting them wet.
Avoid going near MRI machines and radio transmitters. You may use a computer, radio, stereo, or mobile phone. Do not stand directly next to another patient undergoing Capsule Endoscopy. Avoid large shopping centres.
Return to the rooms at 4.30 pm to have the equipment removed. Pain or nausea are very uncommon following capsule endoscopy. Should you feel persistent pain or nausea please telephone Dr. Desmond's rooms.
The capsule passes naturally in a bowel movement typically in about 24-72 hours. Most likely you will be unaware of its passage. lt does not need to be retrieved and can be safely flushed down the toilet. Should you become concerned that the capsule has not passed after 7 days you should contact Dr. Desmond's rooms.
Until the capsule passes, further testing which includes any type of MRI should be avoided. lf you have an MRI examination scheduled within the next three days, the MRI examination should be postponed.
Results are generally available within one week of the procedure. A report will be sent to your referring doctor.
FEES:
Dr Desmond will bulk bill Medicare for your capsule endoscopy procedure. However there is a $100.00 out of pocket fee (payable at time of procedure by EFTPOS or cash) to assist with administrative and reporting costs. Please discuss with Dr Desmond's staff if there are financial difficulties.
---
Top of page