Dr. Chris Desmond - Gastroenterologist
Chris Desmond is a Melbourne based Gastroenterologist who investigates and treats all areas of luminal gastroenterology and hepatology, with particular interest in colon cancer screening, inflammatory bowel disease, coeliac disease, small bowel capsule endoscopy, endoscopic ultrasound, gastro-oesophageal reflux disease, food intolerances, irritable bowel and functional GI disorders.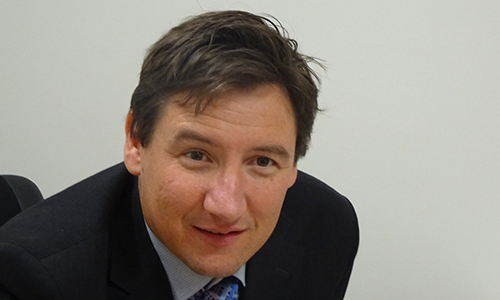 He performs interventional and therapeutic gastroscopy and colonoscopy (including 'open access endoscopy') at Cabrini Malvern and Brighton, Jessie McPherson Private Hospital (Monash Medical Centre), and Glen Iris Private.
To treat a broad base of patients, Chris combines public practice at Monash Health where he is a visiting specialist and Deputy Director of Endoscopy, with a private Gastroenterology practice in Ashburton, Clayton and Cabrini Medical Centres. Dr Desmond undertakes endoscopic ultrasound procedures at Monash Medical Centre, Clayton, and Cabrini Hospital, Malvern. He provides a 7 day per week inpatient gastroenterology service at Cabrini Malvern and Cabrini Brighton.
In addition to treating individuals, Dr Desmond also dedicates time to teaching junior doctors and medical students. He is involved in teaching at the Monash University Medical School at Monash Health and Cabrini Hospital and is an Honorary Senior Lecturer at Monash University.
Dr Desmond completed physician training and Specialist Gastroenterology training at The Alfred Hospital in Melbourne. He subsequently undertook a further advanced endoscopic fellowship at the Royal Brisbane Hospital, prior to undertaking an endoscopic ultrasound fellowship at the Medical University of South Carolina, USA. He also undertook basic scientific research through Monash University, Melbourne, where he was awarded an NHMRC Research Scholarship.
---
Qualifications / Achievements
2005 Fellowship of the Royal Australasian College of Physicians
1998 Monash University Bachelor of Medicine Bachelor of Surgery (MBBS) with honours
Services
Consultation
Direct Health Fund Billing
Workcover, DVA and TAC Billing
Medico-legal reporting
Discounted fees for pensioners
Overnight Medicare rebate
Diagnosis & Treatment
Abnormal liver function tests
Surveillance screening
Ulcerative Colitis
Crohn's Disease
lrritable Bowel Syndrome
lron Deficiency Anaemia (15min iron infusion)
Difficulty swallowing
Heartburn or reflux
Abdominal pain
Bloating
Rectal bleeding
Constipation
Diarrhoea
Gastroparesis
Food lntolerances
Procedures
Oesophageal Dilatation
Gastroscopy with Botox
Polyp removal
Haemorrhoidal Banding
Endoscopic removal of foreign body
Breath testing arranged.
---
Research, Publications and Presentations
Oral Presentations
"Endoscopically Assisted Video Capsule Endoscopy" – Australian Gastroenterology Week 2005
"Double-balloon Enteroscopy" – 9th Annual Coolum Update in Gastroenterology and Hepatology 2005
"Ursodeoxycholic Acid and Liver Disease in an Adult Cystic Fibrosis Population" - Australian Gastroenterology Week 2004
"Durability of Sustained Virologic Response in Hepatitis C Treated Patients" - Australian Gastroenterology Week 2004
"Evolution of Sustained Virologic Response Rates with Interferon Based Therapies in the Clinic Setting" - Australian Gastroenterology Week 2004
Poster Presentations
"Identification of novel hepatitis B virus T-cell epitopes and escape mutations in Asian individuals with chronic HBV infection using a population based approach" – American Association for the Study of Liver Diseases (AASLD), Boston, 2009
"The Impact of HLA on Hepatitis B Virus (HBV) Sequence Polymorphism in Asian Individuals with Chronic HBV Infection" – European Association for the Study of Liver Disease, Hamburg 2008
"Ursodeoxycholic Acid and Liver Disease in an Adult Cystic Fibrosis Population" - Digestive Diseases Week, Chicago, 2005 (Poster of Distinction)
"Endoscopic Ultrasonography in the Diagnosis of Pancreatic Cystic Lesions" – Australian Gastroenterology Week 2005
"Durability of Sustained Virologic Response in Hepatitis C Treated Patients" – American Association for the Study of Liver Diseases (AASLD), Boston, 2004
Publications – Manuscripts
"Viral adaptation to host immune responses occurs in chronic hepatitis B virus (HBV) infection, and adaptation is greatest in HBV e antigen-negative disease" – Desmond CP, Gaudieri S, James IR, Lewin SR, et al. Journal of Virology 2012; 86(2):1181-92
"A systematic review of T-cell epitopes in hepatitis B virus: identification, genotypic variation and relevance to antiviral therapeutics." – Desmond CP, Roberts SK, Lewin SR, et al. Antiviral Therapy 2008; 13(2):161-75
"Sustained Virologic Response Rates and Durability of Response to Interferon Based Therapies in Hepatitis C Patients Treated in the Clinic Setting" – Desmond CP, Roberts SK, Pianko S, et al. Journal of Viral Hepatitis 2006 May;13(5):311-5
"The Benign Course of Liver Disease in Adults with Cystic Fibrosis and the Effect of Ursodeoxycholic Acid – Desmond CP, Wilson J, Bailey M, Roberts SK, et al. Liver International 2007 Dec; 27(10):1402-8
Publications – Case Report
"Exercise-Related Abdominal Pain as a Manifestation of the Median Arcuate Ligament Syndrome" - Desmond CP, Roberts SK. Scandinavian Journal of Gastroenterology 39(12):1310-1313, 2004 Dec
Hospital Guidelines/ Protocols
The use of antiplatelet agents during therapeutic endoscopy Treatment of paracetamol overdose
Memberships and Associations
---
---
Top of page